Joined

Dec 30, 2022
Messages

119
Reaction score

89
Location
This is the latest news out of New York City Concerning the Flying of Drones…​
REMOTE POSSIBILITIES​
City institutes rules and fees aimed at controlling drones​
New York Daily News ∙ 22 Jul 2023 ∙ BY MICHAEL GARTLAND​
Drone operators will have to be licensed by the feds and pay a fee under rules announced Friday by NYPD Commissioner Edward Caban and Mayor Adams (below).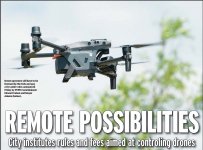 Mayor Adams is moving New York City into the drone zone, but critics fear some will be left behind. Adams and top city officials announced Friday that the city is adopting new guidelines around drones intended to make it easier to use them for building and infrastructure inspections, as well as other commercial uses.
"Drones are proven technology, and they're being used every day," Adams said during a press conference on the Lower East Side. "The city of New York cannot lead from the rear. We must lead from the front."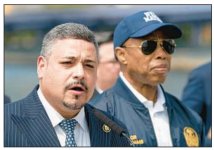 The new guidelines and permitting process for drones opens their use up to anyone who wants to apply to the NYPD for a $150 permit. But obtaining a permit comes with requirements, including that the drone operator have a remote pilot certificate, the guidelines for which are laid out by the Federal Aviation Administration.
"Prior to the creation of this process, if someone launched a drone within city limits, they were always, always in violation of the law," NYPD Commissioner Edward Caban said Friday. "Now, we are creating a balance between legal access and safety for all."
The requirements around getting a permit and the fee associated with it are likely to limit the number of people seeking to use drones for recreational purposes. But the requirements include provisions that might curb more practical applications of drones as well.
According to the city's website, applications must be submitted to the city at least 30 days in advance of the first proposed take-off or landing — a timeframe media lawyers say precludes news outlets from using drones to cover breaking stories.
"These proposed rules totally ignore the news media," said Robert Roth, a Brooklyn-based media lawyer.
That isn't his only concern. Since the new guidelines aren't enshrined through a law passed by the City Council, he's skeptical they'd hold up in court if they were to face a legal challenge.
"It's a great doubt in my mind, and that of many other lawyers, as to whether or not the NYPD can enact a regulation that effectively amounts to amendment of city law," Roth said. "I don't think they can do it."
Officials from the Adams' administration did not immediately respond to questions about the issues raised by Roth.
During his press conference Friday, Adams was asked a more general question about how news organizations would be allowed to use drones. He responded by pointing to the new permitting process.
"By having a website, you can see that we are utilizing the permission process in the correct way, and that's the goal," he said. "The goal is transparency, allowing people to take away the uncertainty."
City officials expect contractors and private entities to submit applications for other practical uses like buildings inspections and environmental impact assessments.
The city itself is already using drones for its own inspections and assessments. And Adams has previously touted the city's use of new technology, most notably when he pointed to use of both drones and robotic dogs in the wake of a downtown building collapse in April.
Deputy Mayor Meera Joshi ticked off several ways the city is now using the technology in other ways, including for bridge inspections conducted by the Transportation Department, facade inspections done by the Buildings Department and an assessment of the city's tree canopy being undertaken by the Parks Department.
"There are sadly many conditions in this city where a drone inspection is the only way we're going to be able to see the critical, dangerous fault lines that need rapid repair," she said.
End of Story…………………..