Joined

Dec 30, 2022
Messages

118
Reaction score

88
Location
I am a Part 107 Licensed Pilot and I fly recreationally. I fly a DJI Mini 2 and I use two different Android Samsung Galaxy Tablets, an older S2, SM-T713 and a new A8 SM-X200 with my Mini 2.
I am an Air Force Chief Master Sergeant, 30-year Veteran and I've been retired for over 20-years. I am also very active on other Drone Websites to include: MavicPilot, the DJI Forum, the DJI Help Forum, and on two Facebook Groups: the Virginia Drone Pilot Group and the Pilot Institute Drone Student Group.
I am an unabashed Alumni of the Pilot Institute's Part 107 Commercial Drone License Course where I scored a 100% on the FAA's Part 107 Exam after taking Greg Reverdiau course and I will recommend it to anyone asking for advice (sometimes you don't even have to ask..).
I live in the Hampton Roads of Virginia. It is the Peninsula between Richmond and Norfolk. I live right smack in a heavily controlled Class D Airspace. First off, the Airspace over my home is covered by both Langley AFB and Newport News/Williamsburg International Airport. And to make matter worse, I live on the West side of a Zero (0) Altitude FAA Airspace Sector.
So, technically, I live in a "Drone Taxi Zone…"
I can stand in my front yard and fly my drone up and down the street up to 400', but I cannot land it in my own driveway. Which explains the Part 107 of my Recreational Flying. With my Part 107, I can request Waivers to fly in my own yard through the FAADroneZone…
And as you can see in the map, the areas in RED are all National Park "No-Fly-Zones…" And to make matters worse, the county I live in prohibits Drones flying from all county property (parks, school yards, beaches, boat launches, etc…).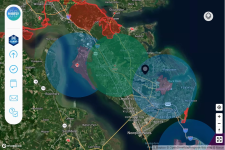 Fortunately, the DJI Authorization Zones from the Langley AFB and Patrick Henry Airport do not quite reach my home…
As I wrote earlier, I am active on other Drone Web Sites and I am looking forward to learning and sharing Drone Experiences…
I want to thank
@dirkclod
for sharing this web site with me (and others…).
So to all, Happy Droning and happy New Year…