Joined

Oct 1, 2023
Messages

1
Reaction score

0
Age

51
Location
Hello, and thank you for stopping by.
I am liquidating my entire DJI Fleet, so please feel free to inquire about any of the items listed below. I can provide all the information that you wish (i.e. maintenance, hours, etc.) for each of the aircraft listed, and all have original manuals. All aircraft are FAA registered, have been meticulously maintained, most have extremely low hours, and none have logged any crashes. I would like to sell the complete fleet to a single interested user, and would provide a 10% discount for those interested. Additionally, I will ship items at buyers expense. I will consider REASONABLE offers only, please DM.
Thank you for looking...
Respectfully,
Jason Q.
Commercial Drone Pilot
Aero-Drone Imagery
Inspire 1 Includes:
| | | | | | |
| --- | --- | --- | --- | --- | --- |
| QTY | DESCRIPTION | MANUFACTURER | CONDITION | PRICE | TOTAL |
| 1 | INSPIRE 1 V2 W/ CONTROLLER & 4K CAMERA | DJI | GREAT | $2,000.00 | $2,000.00 |
| 1 | INSPIRE 1 CONTROLLER | DJI | GREAT | $200.00 | $200.00 |
| 3 | TB48 BATTERY | DJI | GOOD | $150.00 | $450.00 |
| 1 | TB47/48 BATTERY CHARGING HUB | DJI | LIKE NEW | $100.00 | $100.00 |
| 1 | TRAVEL MODE HARD CASE | GPC | LIKE NEW | $500.00 | $500.00 |
| | | | | | |
| TOTAL | $3,250.00 | | | | |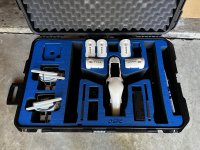 Inspire 2 Includes:
| | | | | | |
| --- | --- | --- | --- | --- | --- |
| QTY | DESCRIPTION | MANUFACTURER | CONDITION | PRICE | TOTAL |
| 1 | INSPIRE 2 W/ CONTROLLER & X4 CAMERA | DJI | LIKE NEW | $3,500.00 | $3,500.00 |
| 1 | CENDENCE CONTROLLER W/ PATCH ANTENNA | DJI | LIKE NEW | $900.00 | $900.00 |
| 8 | TB50 BATTERY | DJI | LIKE NEW | $150.00 | $1,200.00 |
| 1 | TB50 BATTERY CHARGING HUB | DJI | LIKE NEW | $100.00 | $100.00 |
| 1 | ZENMUSE X5S CAMERA | DJI | LIKE NEW | $1,200.00 | $1,200.00 |
| 1 | M.ZUIKO 17MM F1.8 LENS W/ UV FILTER | OLYMPUS | LIKE NEW | $300.00 | $300.00 |
| 1 | M.ZUIKO 9-18MM F4-5.6 LENS W/ UV FILTER | OLYMPUS | LIKE NEW | $250.00 | $250.00 |
| 1 | M.ZUIKO 14-42 F3.5-5.6 LENS W/ UV FILTER | OLYMPUS | LIKE NEW | $150.00 | $150.00 |
| 1 | TRAVEL MODE HARD CASE | GPC | LIKE NEW | $600.00 | $600.00 |
| | | | | | |
| TOTAL | $8,200.00 | | | | |
Mavic Pro Includes:
| | | | | | |
| --- | --- | --- | --- | --- | --- |
| QTY | DESCRIPTION | MANUFACTURER | CONDITION | PRICE | TOTAL |
| 1 | MAVIC PRO W/ CONTROLLER | DJI | GREAT | $500.00 | $500.00 |
| 4 | BATTERY | DJI | GREAT | $50.00 | $200.00 |
| 1 | BATTERY CHARGING HUB | DJI | LIKE NEW | $35.00 | $35.00 |
| 1 | TRAVEL MODE HARD CASE | GPC | LIKE NEW | $150.00 | $150.00 |
| | | | | | |
| TOTAL | $885.00 | | | | |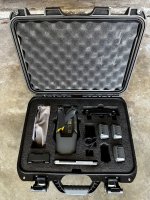 Mavic Air Includes:
| | | | | | |
| --- | --- | --- | --- | --- | --- |
| QTY | DESCRIPTION | MANUFACTURER | CONDITION | PRICE | TOTAL |
| 1 | MAVIC AIR W/ CONTROLLER | DJI | LIKE NEW | $500.00 | $500.00 |
| 3 | BATTERY | DJI | GREAT | $50.00 | $150.00 |
| 1 | BATTERY CHARGING HUB | DJI | LIKE NEW | $35.00 | $35.00 |
| 1 | TRAVEL MODE HARD CASE | GPC | LIKE NEW | $150.00 | $150.00 |
| | | | | | |
| TOTAL | $835.00 | | | | |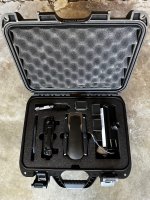 Spark Includes:
| | | | | | |
| --- | --- | --- | --- | --- | --- |
| QTY | DESCRIPTION | MANUFACTURER | CONDITION | PRICE | TOTAL |
| 1 | MAVIC SPARK W/ CONTROLLER | DJI | GREAT | $250.00 | $250.00 |
| 4 | BATTERY | DJI | GREAT | $30.00 | $120.00 |
| 1 | BATTERY CHARGING HUB | DJI | LIKE NEW | $253.00 | $253.00 |
| 1 | TRAVEL MODE HARD CASE | GPC | LIKE NEW | $100.00 | $100.00 |
| | | | | | |
| TOTAL | $723.00 | | | | |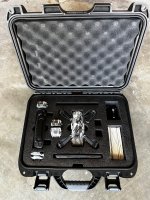 MISC DJI Items:
| | | | | | |
| --- | --- | --- | --- | --- | --- |
| QTY | DESCRIPTION | MANUFACTURER | CONDITION | PRICE | TOTAL |
| 1 | 1080 VR GOGGLES | DJI | LIKE NEW | $500.00 | $500.00 |
| 1 | INSPIRE BACKPACK | LOWE | LIKE NEW | $100.00 | $100.00 |
| 1 | VR GOGGLE BACKPACK | MANFROTTO | LIKE NEW | $100.00 | $100.00 |
| | | | | | |
| TOTAL | $700.00 | | | | |